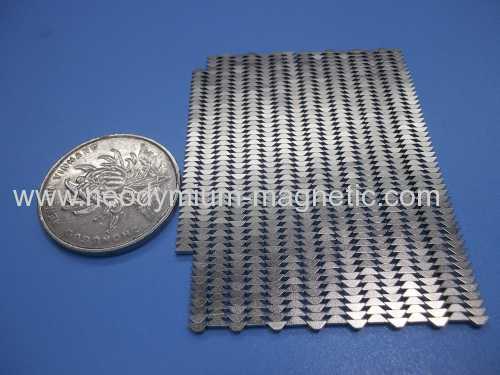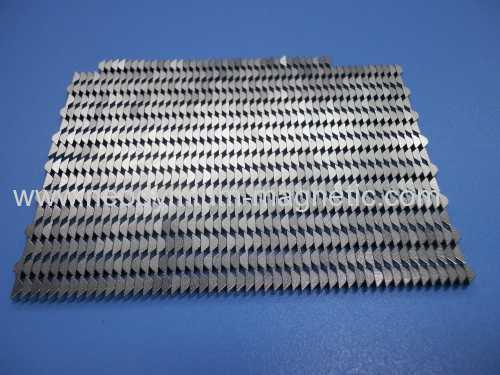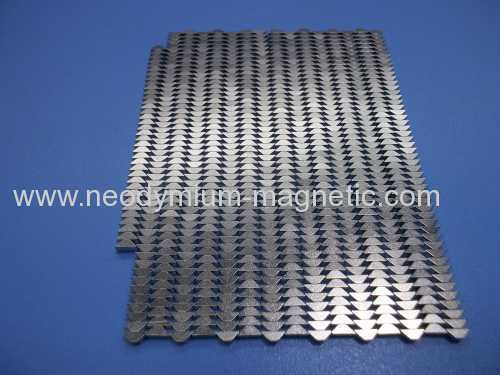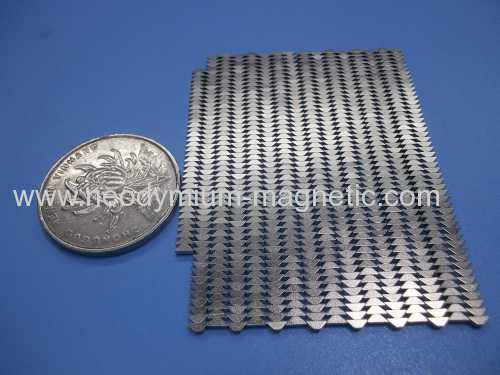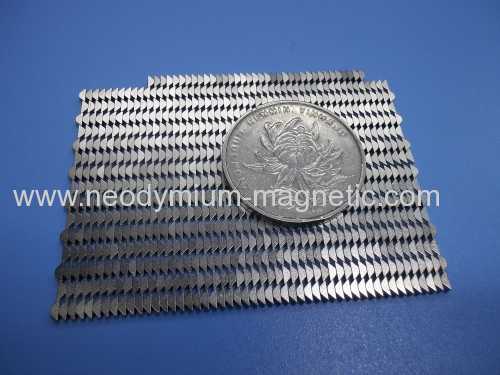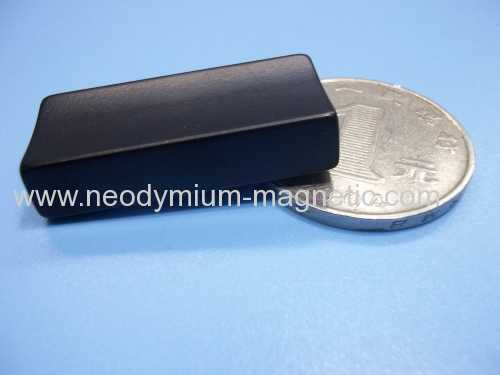 trapezoid trapezoidal permanent neodymium ndfeb rare earth magnet Admin Edit
Product Description
Product Attribute
1,Why Choose US:
Quality Assurance :
-The Company achieved certificate of ISO9001 in 2005 and certificate of ISO/TS16949,ISO14001,GS/T28001 in 2014.
Patent & Licence
-We Could supply Magnet Patent & Licence to the end users.
Soon Feedback

-We will reply you all the questions within 24 hours.
Payment terms:
We Could Accept monthly payment.
Soonest delivery
Lead time: ABout 7-20 days
Favourable price
Try our best to save your Money.
N30-N52, 33M-50M, 30H-50H, 30SH(T)-45SH(T), 30UH-44UH and 30EH-40EH;
Item

Grade

Residual Induction

Coercive Force

Intrinsic Coercive Force

Max. Energy Product

Tw






Br




Hcb




Hcj




(BH)Max




L/D=0.7






T

kGS

kA/m

kOe

kA/m

kOe

kJ/m³

MGOe

°C

N

N35

1.17-1.24

11.7-12.4

≥860

≥10.8

≥955

≥12

263-295

33-37

≤80




N38

1.22-1.30

12.2-13.0

≥860

≥10.8

≥955

≥12

287-318

36-40

≤80




N40

1.26-1.32

12.6-13.5

≥860

≥10.8

≥955

≥12

302-334

38-42

≤80




N42

1.29-1.35

12.9-13.5

≥860

≥10.8

≥955

≥12

318-350

40-44

≤80




N45

1.32-1.38

13.2-13.8

≥860

≥10.5

≥955

≥12

334-366

42-46

≤80




N48

1.37-1.43

13.7-14.3

≥836

≥10.8

≥876

≥11

358-390

45-49

≤80




N50

1.40-1.45

14.0-14.5

≥836

≥10.5

≥876

≥11

374-406

47-51

≤80




N52

1.42-1.48

14.2-14.8

≥836

≥10.5

≥876

≥11

390-422

49-53

≤80




N54

1.45-1.51

14.5-15.1

≥836

≥10.5

≥876

≥11

398-438

50-55

≤80

M

N35M

1.17-1.25

11.7-12.4

≥860

≥10.8

≥1114

≥14

263-295

33-37

≤100




N38M

1.22-1.30

12.2-13.0

≥915

≥11.5

≥1114

≥14

287-318

36-40

≤100




N40M

1.26-1.32

12.6-13.5

≥939

≥11.8

≥1114

≥14

302-334

38-42

≤100




N42M

1.29-1.35

12.9-13.5

≥955

≥12.0

≥1114

≥14

318-350

40-44

≤100




N45M

1.32-1.38

13.2-13.8

≥987

≥12.4

≥1114

≥14

334-366

42-46

≤100




N48M

1.37-1.43

13.7-14.3

≥1019

≥12.8

≥1114

≥14

358-390

45-49

≤100
Item

Grade

Residual Induction

Coercive Force

Intrinsic Coercive Force

Max.Energy Product

Tw






Br




Hcb




Hcj




(BH)Max




L/D=0.7






T

kGS

kA/m

kOe

kA/m

kOe

kJ/m³

MGOe

°C

SH

N33SH

1.14-1.21

11.4-12.1

≥852

≥10.7

≥1592

≥20

247-279

31-35

≤150




N35SH

1.17-1.24

11.7-12.4

≥876

≥11

≥1592

≥20

263-295

33-37

≤150




N38SH

1.22-1.30

12.2-13.0

≥915

≥11.5

≥1592

≥20

287-318

36-40

≤150




N40SH

1.26-1.32

12.6-13.5

≥939

≥11.8

≥1592

≥20

302-334

38-42

≤150




N42SH

1.29-1.35

12.9-13.5

≥963

≥12.1

≥1592

≥20

318-350

40-44

≤150




N45SH

1.32-1.38

13.2-13.8

≥994

≥12.5

≥1592

≥20

335-366

42-46

≤150

UH

N30UH

1.08-1.16

10.8-11.6

≥812

≥10.2

≥1990

≥25

223-255

28-32

≤180




N33UH

1.14-1.21

11.4-12.1

≥852

≥10.7

≥1990

≥25

247-279

31-35

≤180




N35UH

1.17-1.24

11.7-12.4

≥876

≥11

≥1990

≥25

263-295

33-37

≤180




N38UH

1.22-1.30

12.2-13.0

≥915

≥11.5

≥1990

≥25

287-318

36-40

≤180




N40UH

1.26-1.32

12.6-13.5

≥939

≥11.8

≥1990

≥25

321-334

38-42

≤180




N42UH

1.29-1.35

12.9-13.5

≥963

≥12.1

≥1990

≥25

318-350

40-44

≤180

EH

N30EH

1.08-1.15

10.8-11.5

≥812

≥10.2

≥2388

≥30

223-255

28-32

≤180




N33EH

1.14-1.21

11.4-12.1

≥851

≥10.7

≥2388

≥30

247-279

31-35

≤180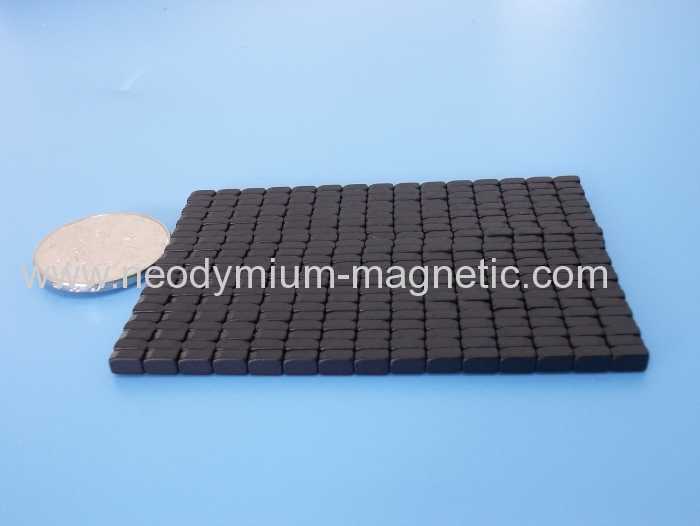 | | | | |
| --- | --- | --- | --- |
| Delivery Date: | 7-15 days | Application: | Industrial Magnet |
| Shape: | Disc | Type: | Permanent |
| Composite: | Neodymium Magnet | Brand Name: | HS |
| Spec.: | Min D1.5X0.5MM to Max D240X45MM | Coating: | NICUNI ,Zn,EPOXY |
| Grade: | N50 N45SH N50H | Tolerance: | +/- 0.05mm |
| Magnetizing direction: | through thickness | ROHS: | Yes |
| Magnetization: | Yes | Avalable: | Stock |
| Certificate: | ISO9001 ,ISO/TS16949,ISO14001,GS/T28001 | Material: | Neodymium Magnet |
Min. Order: 1000 Piece/Pieces
Trade Term: FOB,CFR,CIF,EXW
Payment Terms: L/C, T/T, WU
Place of Origin: Zhejiang, China (Mainland)
Means of Transport: Ocean, Air
Production Capacity: 10000000 PCS/M
Packing: Standard export carton
Delivery Date: 7-15 days
Application: Industrial Magnet
Shape: Disc
Type: Permanent
Composite: Neodymium Magnet
Brand Name: HS
Spec.: Min D1.5X0.5MM to Max D240X45MM
Coating: NICUNI ,Zn,EPOXY
Grade: N50 N45SH N50H
Tolerance: +/- 0.05mm
Magnetizing direction: through thickness
ROHS: Yes
Magnetization: Yes
Avalable: Stock
Certificate: ISO9001 ,ISO/TS16949,ISO14001,GS/T28001
Material: Neodymium Magnet